Upgrade Videos:Exchange 2013 Tips and Tricks: "The public folder database cannot be deleted. Object is read only because it was created by a future version of Exchange."
Upgrade to Exchange 2013 when:
There are no Public Folders
The existing Public Folders are not used anymore
If you have no Public Folders to migrate (ex. there are just a few small ones – not used anymore), you might wonder how to complete the Exchange 2013 upgrade. Simply deleting recursively the existing Public Folders and trying to delete the PF Database results in the following error message: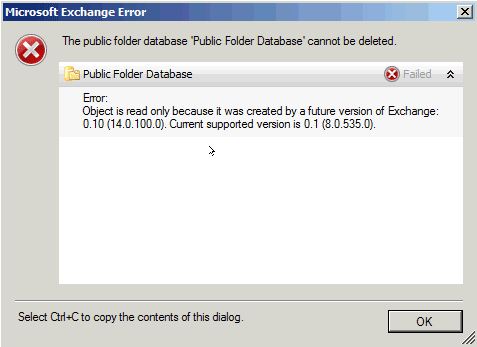 Dealing with the Public Folders has always been one of the most confusing parts of the Exchange upgrades, and that's particularly true about Exchange 2013. Unfortunately, there isn't much documentation about the case where you need to complete the upgrade process without migrating Public Folders. While using "ADSIEdit" has been the only option in the Exchange 2013 RTM version, Exchange 2013 CU1 and later allows you to perform this task in a friendly and safe manner.
In the following Screencast

, we demonstrate how to complete the Exchange 2013 upgrade without migrating the Public Folders:
Tweet #Exchange2013 Follow @netometer
Stay tuned on NetoMeter – subscribe to NetoMeter RSS.
Dean